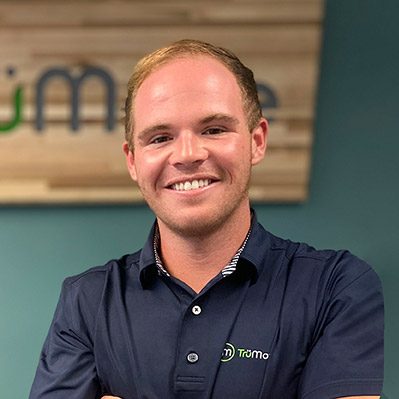 Chiropractor
Layton Truax, D.C.
Dr. Layton Truax is a Chiropractic physician and owner & founder at TrüMove Chiropractic Wellness in Savannah, GA. He has specialized training in sports performance/ injury, muscle therapy, Chiropractic techniques, nutrition, and functional rehabilitation. His philosophy entails a Sports Chiropractic background with a concentration of hands on myofascial manual therapy.
This is unique in treating the muscle, fascia, all connective issues, and then adjusting the joint itself to help fully restore injuries, imbalances, aches/pains, limitations, and syndromes. Once the body is released from tension and properly aligned through Chiropractic adjustments, functional corrective exercise and True movement is practice and prescribed.
He is from Savannah, Georgia where he began to explore his passion for wellness as an overweight, yet talented athlete, specifically in golf. He began experiencing back pain in episodic fashions at a young age. Through treatment of a chiropractor, he began to correlate the importance of chiropractic adjustments, proper biomechanics, and nutrition as he experienced his condition resolve. Dr. Truax made a complete health transformation losing over 70 pounds in the process. He proceeded his golf career collegiality at Newberry College obtaining a Bachelors of Science in Biology. As a collegiate athlete, Dr. Truax saw the level of care the top athletes were receiving and was hooked due to the increase in performance associated with the treatment. Regardless of age, occupation, or specific musculoskeletal condition, Dr. Truax can help you to truly move and live a better life.
Dr. Truax has created quite the tool bag of certifications in his approach to true wellness and healthcare. He is certified as a Titleist Performance Institute (TPI) medical practitioner, which uses functional movement screenings to find limitations in the body which will correlate to golfer's swing, as well as any rotational sport or movement. He is certified in the gold standard of soft tissue muscle therapy called Active Release Technique (ART). These certifications along with others incorporated with his chiropractic techniques allow for a game changing way of life.
This is a gentle, integrated, and specific Chiropractic care most have never experienced. We have some legit services creating some pretty remarkable testimonies. Layton's training allows him to specialize by addressing muscle imbalance with biomechanics to find dysfunctions in specific movements. Whether you are a professional golfer, high school track runner, or super mom of 4; Dr. Truax will be able to help you function more efficiently and learn how to truly move.
Acupuncturist
Gabriella Rivera, D.A.O.M., L.Ac
My name is Gabriella Rivera and I'm a Doctor of Acupuncture and Traditional Chinese Medicine (DAOM), Licensed Acupuncturist (L.Ac), in Savannah, GA. I am a graduate of Five Branches University in California and nationally certified by NCCAOM and the Georgia Composite Medical Board.
 I am also a graduate of the Institute of Integrative Nutrition in New York City and certified as a Holistic Health Counselor by the National Association of Drugless Practitioners.
​
I have been working in the field of holistic medicine for over 20 years -supporting women with conditions such as fibromyalgia, diabetes, obesity, asthma, and mental health imbalances to name a few.
After over 8 years as an acupuncturist, I continue to learn and adapt cutting-edge nutritional and Functional Medicine knowledge with Acupuncture and TCM to better support you.
massage therapist
Cameron, L.M.T.
Cameron is a muscle expert. More than a massage therapist he has trained as a neuroscientist and works with the brain-to-muscle connection. He performs a 3D body-scan with his hands and is the perfect man to alleviate any chronic or acute injuries.
OFFICE HOURS
Monday
9:00am - 5:30pm
---
Tuesday
9:00am - 5:30pm
---
Wednesday
9:00am - 5:30pm
---
Thursday
9:00am - 5:30pm
---
Friday
Closed
---
Saturday
Closed